One in five children will experience the death of someone close to them by age 18, according to grief expert Kenneth Doka. Join the Healing Patch Children's Grief Program in showing support of these often "forgotten mourners" on Children's Grief Awareness Day, observed Nov. 21. 
"We are so thankful to have a 'home' for the Healing Patch in Blair County," shares Melody Ray, Healing Patch coordinator. "Many times children are overlooked after a death occurs, but we know that children grieve. Just like adults – they all process grief differently. It's important to allow children to have a safe place and the opportunity to express themselves and share with others, including their peers and family. The Healing Patch is a place where these grieving children and families can find hope and healing together." 
The Healing Patch began in 2006 as a free program to help grieving children and their families through peer support, education and more.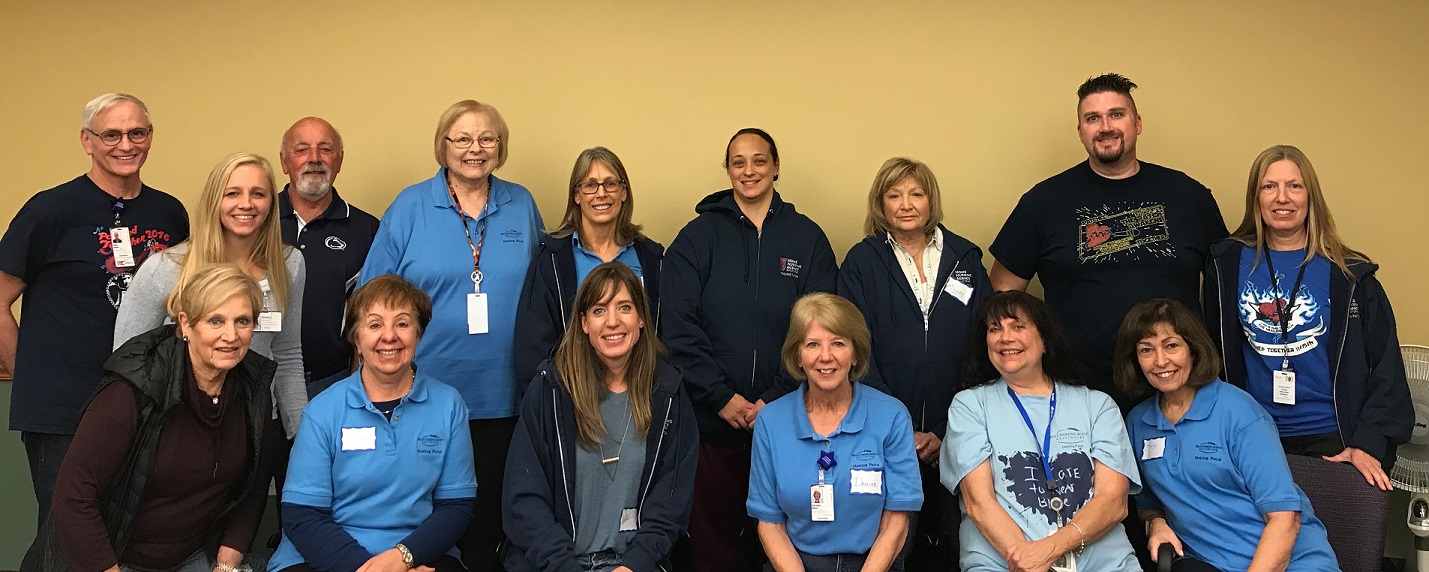 "The volunteers are truly the heart of the Healing Patch," said Shalen Steinbugl, Healing Patch volunteer coordinator/grief specialist. "We couldn't provide the services that we do without their continued dedication and genuine care for the children and their families."
Pictured are Blair Healing Patch volunteers preparing for Children's Grief Awareness Day on Nov. 21 by wearing blue. In front from left are Bonnie Zimmerman, Tina Karl, Katie Fiore, Denise Mason, Sherry Hayford and Margy Baumgartner. In back from left are Alex Seltzer, Shalen Steinbugl (Healing Patch volunteMickey Port, James Gerraughty and Sue LeCrone. 
Each year, the Healing Patch joins in the observation of Children's Grief Awareness Day on the third Thursday of November to bring awareness to the unique needs of grieving children. You can get involved on Nov. 21 by wearing blue. Message any photos of yourself, family members, co-workers or others wearing blue to the Healing Patch Children's Grief Program Facebook page so that photos can be shared. 
Do you interact frequently with a grieving child?
Here are some more direct ways you can help:
Be honest with the child. Discuss in a simple, direct and age-appropriate manner.
Listen. Let the child share his story about what happened. Let him ask questions and do your best to answer. Don't be afraid to say, "I don't know."
Acknowledge the child's grief. A child's grief looks very different than an adult's. It is normal for children to move in and out of grief reactions, at times being very upset or getting angry easily and at other times playing as if nothing has happened.
Share. Tell the child stories about your own life. Times you were afraid, sad or angry. Tell them how you dealt with these situations and what you learned. Children love to hear stories about the adults in their lives and when those adults were children. Sharing stories helps a child normalize what he or she is experiencing.
Be creative. Give the child a creative outlet to express feelings. This can be done through drawing, writing, doing crafts, listening to music, or playing games.
Maintain clear expectations. Keep rules and boundaries consistent. Children gain security when they know what is expected from them. Children will often use their pain as an excuse for inappropriate behavior. While you should always acknowledge the grief your child is experiencing, you should also teach them to be accountable for their choices, no matter how they feel.
Create rituals and new family traditions. Rituals can give your family tangible ways to acknowledge your grief and honor the memory of those who have died. Lighting candles, recognizing special occasions, sharing stories about those who have died or volunteering with a local charity as a family are some of the ways you can incorporate new traditions or rituals. 
The Healing Patch is supported in part by the Home Nursing Agency Foundation, the Patched Together Day of Music fundraiser and various other community groups and donations. The new location at 20 Sheraton Dr., Altoona was made possible by a generous gift from the Michael E. Ward Family Foundation. Thank you to the Hollidaysburg Area School District for the generous use of the Hollidaysburg High School as the site for our Blair groups in the past three years. 
To learn more about local grief resources or to refer a child/family for services, please contact the Healing Patch at 1-800-445-6262.