Nurse-Family Partnership Program®
For first-time moms and their babies
A free home visitation program, nurses mentor income-eligible first-time mothers and provide education and support from early pregnancy through the child's second birthday.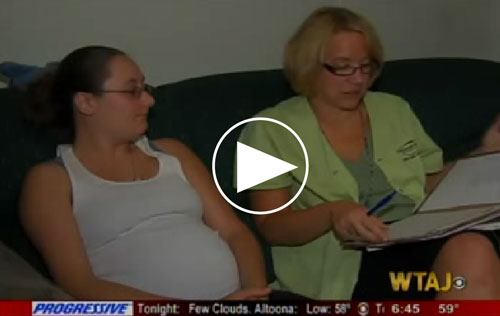 Through education and guidance, nurses talk with mothers about the medical, psychological, social and developmental aspects of being pregnant. They provide new mothers with support, education and counseling on health, behavioral and self-sufficiency until the baby reaches two years of age. Interested first-time mothers must enroll in Nurse-Family Partnership before 28 weeks gestation.
Since Home Nursing Agency began offering Nurse-Family Partnership in 2002, more than 1,500 families have benefited from this free and voluntary program offering nurse home visitation. We serve families in the following counties: Blair, Cambria, Centre, Clearfield, Huntingdon, Somerset, and Jefferson.
Learn more: 
Nurse-Family Partnership was showcased in TIME and in the New York Times:
1) TIME magazine featuring Nurse-Family Partnership: How Nonprofits Can Use Data to Solve the World's Problems
2) The December 16th Sunday New York Times featured a story on Nurse-Family Partnership; both remarkable for its length and depth as well as for the openness of the NYC nurses and clients who shared their stories. Read the story.
What to Expect When You're Expecting:
Nurse-Family Partnership® Supports First-Time Parents with Care, Education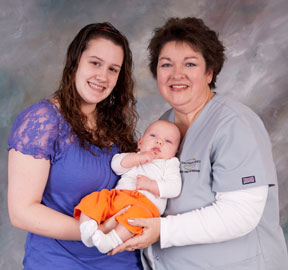 What describes most expectant and new mothers?
Nervous.
"So many times I didn't know what to do, and I would call her," shares new mom Rachael Bonsell, who had more peace of mind than many first-time mothers because of her nurse Melissa Horell from Nurse-Family Partnership®.
This voluntary program pairs highly specialized nurses with first-time mothers meeting income eligibility guidelines for mentoring during pregnancy through the child's second birthday. Regular home visits provide an opportunity for education and monitoring of the mother's or baby's health.
"Melissa makes our visits personal, which is nice," Rachael explains. "She got to know me and remembers things about me. You can tell she cares about me – she's not just doing it because she has to."
After their son Noah was born in September at a healthy birth weight of 7 lbs., 12 oz., Rachael and her husband Tyler gained a new appreciation for having an expert available to answer questions.
"It's a huge relief," shares Rachael. "I don't want to call the doctor every day for every little concern."
Melissa is able to help them determine what is normal and when it is necessary to be seen by a doctor, and she has also become a trusted friend of the Bonsell family.
"I'm excited that she gets to be part of our lives," Rachael says. "She will watch Noah grow up, watch me grow as a mother and my husband and I grow with Noah as a family. I know she really cares about us."
Photo caption: First-time mother Rachael Bonsell and son Noah have a special bond with Nurse-Family Partnership® home visitor Melissa Horell, who guided Rachael throughout her pregnancy and visits regularly to make sure Rachael and her husband Tyler are prepared for Noah's continuing growth and development.
For more information about the Nurse-Family Partnership Program, visit the national website at www.nursefamilypartnership.org