12/29/2015 Home Nursing Agency Home Health has been named a Top Agency of the 2015 HomeCare Elite™, a recognition of the top-performing home health agencies in the United States. Now in its 10th year, the HomeCare Elite identifies the top 25 percent of Medicare-certified agencies and highlights the top 100 and top 500 agencies overall. Winners are ranked by an analysis of publicly available performance measures in quality outcomes, best practice (process measure) implementation, patient experience (Home Health CAHPS®), quality improvement and consistency, and financial performance. In order to be considered, an agency must be Medicare-certified and have data for at least one outcome in Home Health Compare. Out of 9,718 agencies considered, 2,431 are elite.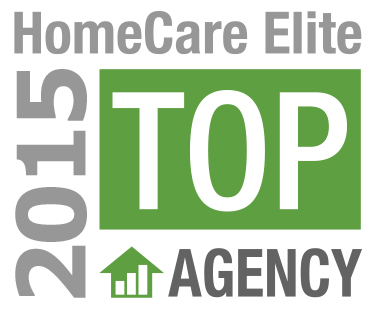 The award is sponsored by OCS HomeCare by National Research Corporation, the leading provider of home health and hospice metrics and analytics, and DecisionHealth, publisher of the most respected independent publication in the home care profession, Home Health Line.
"The 2015 HomeCare Elite winners deserve credit for demonstrating high-quality care in their communities. As quality care initiatives become top-of-mind for healthcare providers, we recognize this as a remarkable achievement and are pleased to make this our 10th year of acknowledgement for top performing home health organizations," said Christine Lang, VP of Product Development for OCS HomeCare. "We congratulate Home Nursing Agency on being one of the top home care agencies in the country."
Janie Christner, vice-president of home health for Home Nursing Agency, credits the agency's ability to achieve recognition as one of the HomeCare Elite to exceptional, individualized patient care designed to ensure each patient achieves his/her maximum potential; comprehensive education program for clinicians and an interdisciplinary, collaborative approach to patient care.
"Our clinicians remain leaders in the home health industry, as evidenced in Home Nursing Agency's position among the nation's top providers every year since HomeCare Elite began," said Phil Freeman, Home Nursing Agency president. "Our team provides the highest quality of care and customer service to patients wherever they call home."
"Happy 10th anniversary to the winners of the HomeCare Elite. As CMS ramps up its nationwide initiatives to reward home care agencies for the quality of care they provide, this is yet another way to acknowledge those agencies that have demonstrated their commitment to improving patient care at lower costs. The winners of the HomeCare Elite Award are proving that a heightened focus on clinical outcomes, patient experience, and financial management leads to success," said Marci Heydt, Senior Content Manager, DecisionHealth.
The entire list of 2015 HomeCare Elite agencies can be downloaded by visiting the National Research Corporation website at http://www.ocshomecare.com/HomeCare-Elite.aspx.
About Home Nursing Agency
Serving more than 23,000 individuals of all ages throughout Central Pennsylvania last year, Home Nursing Agency is the region's premier not-for-profit provider of home healthcare, hospice and community-based services. Founded in 1968, Home Nursing Agency employs more than 800 healthcare professionals who care for families with the mission of providing the highest quality of customer service. Home Nursing Agency is a United Way partner agency in Bedford County, Blair County, Huntingdon County and the Laurel Highlands.
About National Research Corporation
For more than 30 years, National Research Corporation (NASDAQ: NRCIA and NRCIB) has been at the forefront of patient-centered care. Today, the company's focus on empowering customer-centric healthcare across the continuum extends patient-centered care to incorporate families, communities, employees, senior housing residents, and other stakeholders.
National Research is dedicated to representing the true voice of patients and other healthcare stakeholders. This integration of cross-continuum metrics and analytics uncovers insights for effective performance improvement, quality measurement, care transitions, and many other factors that impact population health management.
For more information about HomeCare Elite, call 888-325-3396, write to This email address is being protected from spambots. You need JavaScript enabled to view it. or visit www.ocshomecare.com/HomeCare-Elite.
About DecisionHealth®
For over 25 years, DecisionHealth has served as the home care industry's leading source for analysis and tools to improve revenue cycle performance, profitability and regulatory compliance. Agencies nationwide turn to DecisionHealth for education and training, coding and billing solutions, and ongoing expert guidance through its family of online products, print solutions, and live training events. DecisionHealth also certifies home health agency professionals in ICD-10 coding and OASIS-C1 through its Board of Medical Specialty Coding & Compliance, and provides custom consulting services to agency leaders through its DecisionHealth Professional Services unit. For product information, call 1-855-CALL-DH1 or visit www.decisionhealth.com.