The healing arts: Art therapy proven to be helpful, creative outlet
May 8, 2012
by Beth Ann Downey
This email address is being protected from spambots. You need JavaScript enabled to view it.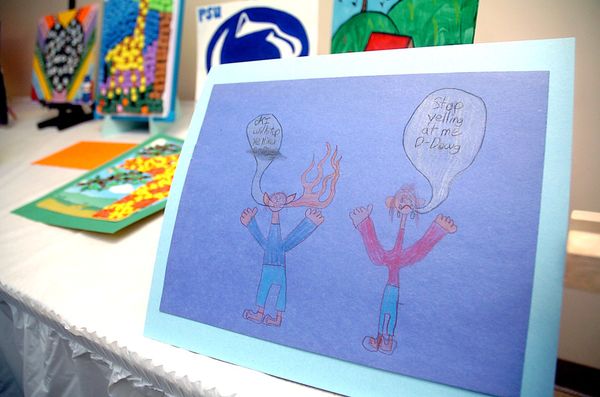 Each of the participants in the Home Nursing Agency's Art Therapy program painted their interpretation of a certain emotion on a watercolor square.
The squares were then fashioned together, becoming a collective, visual demonstration of how we all express emotions differently.
This was just one of the many individual and group art pieces on display at the group's "Arts in Healing" program last Wednesday at the Home Nursing Agency office at 500 E. Chestnut Ave. in Altoona, but its representation of art and the community it can create harkens to the therapy course's main goals.
"Anger to one person may be sadness to another," said Molly Ludwig-Henningsgaard, an art therapist and mental health counselor who runs the program. "We all have different ways of expressing our emotions, and the art shows that."
The Home Nursing Agency has been offering art therapy classes more than three years. Sessions are offered four times a week and are two hours long with half the class devoted to carrying out a project directive and the other half spent talking about what the participants have created.
Ludwig-Henningsgaard said she works mostly with people diagnosed with depression or anxiety, but art therapy has also proven helpful for those with personality or psychotic disorders. Art therapy helps people tap into the creative and imaginative side of their brain, which is also where emotions lie, she added.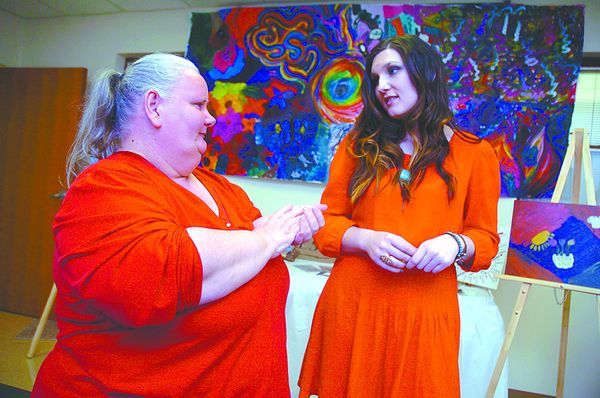 "You can express so much more in a picture than just telling somebody, 'Hey, I'm sad,'" Ludwig-Henningsgaard said. "It's like, 'No, show me how sad you really are.' This allows people to be able to express their emotions, and then in [conjunction] with that, we get to talk about our art."
Jason Corle, who has been participating in the art therapy program for three months, said the creative exercises help him relieve stress. Corle added that he didn't have the opportunity to do much artwork before this, but he likes that the program has given him a structured way to start.
"It's cool to spend time being creative," Corle, 35, of Altoona, said. "It's not something you really get to do [often]. ... It's all fun, learning about yourself. You don't think you're creative, then you just give it a chance, and you find out you are."
One of Corle's pieces on display at the "Arts in Healing" show was created in a group exercise where participants were asked to portray an event that happened in their lives. Corle drew a scene with bright reds and oranges, and smoke-like clouds.
"It represents one point in my life where everything was just collapsing around me," he said. "I didn't know where to go. It just felt like I was running into a dead end."
Then, Corle passed the piece off to Richard Farber, who said he understood what was happening in the painting without the two artists having to talk about it.
"We [understood] just by the way the art was," Farber, 20, of Altoona, said. "I saw that it looked like a fireball, so it meant distruction and doom, and a bad part of life, so I drew a big heart instead. Then for the other side, it looked like smoke and depression, so I drew a little flower and a sun."
Farber has been participating in the art therapy program for a year and a half. He said he enjoys creating 3-D art, and simply "drawing what's on my mind."
"I've always been about art as a form of expression without actually talking about it," he said. "So, I became a pretty good artist."
Diana Carothers, 52, of Coupon, had several pieces of her self-described "junk art" on display at the show. Materials she uses include egg cartons, shopping bags, flowers, mosses, wood, sand, coffee filters and Q-tips.
"Everything I see is beautiful," she said. "I can look at junk and see something."
Carothers has participated in the art therapy group for three years, but has been making "junk art" for as long as she can remember. She said she enjoys portraying her emotions through art, as well as showing other people her techniques.
"Art helps a lot," she said. "As I'm doing it, things just start flowing."
Joel Zuiker, clinical services manager of adult services for the Home Nursing Agency, said the art therapy program is just one of many offered by the center for counseling and adult behavioral services. Others include drama, grief and emotional therapy. The art therapy program is funded by the Central Pennsylvania Community Foundation and the Home Nursing Agency Foundation.
"This is one form of therapy that I really appreciate as a manager being offered to the community," he said of art therapy. "It's different. For parts of trauma and grief and depression that people have difficulty talking about, this kind of opens the door for people to reach that place in their life where they're happy."
Mirror Staff Writer Beth Ann Downey is at 946-7520.
Mirror Photos by Patrick Waksmunski
Photo 1: Art therapy offers individuals different mediums and tools to express their emotions and gain insight about them through a new perspective.
Photo 2: Art exhibitor Kathy Lawrence of Altoona (left) talks with art therapist Molly Ludwig-Henningsgaard at the Home Nursing Agency's Center for Counseling "Arts in Healing" exhibit.