6/8/2018 Home Nursing Agency proudly recognizes 50 years of service to the community in 2018! Started in 1968 with six part-time nurses in Blair County, Home Nursing Agency has grown into a trusted leader in services for people of all ages and stages of life with nearly 1,000 employees.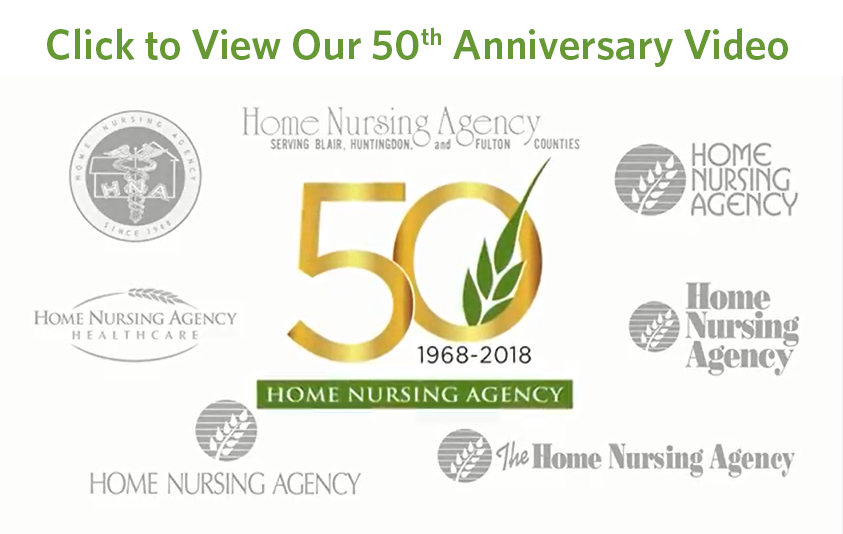 The partnership of local professionals who founded the agency in 1968 sought a clinical leader who could weave home nursing services as a vital thread in the local healthcare system. They found such a leader in Dr. John Sheedy.
"When he was first introduced to it, he absolutely fell in love with it immediately," explains Mary "Tim" Sheedy, wife of the late Dr. John G. Sheedy, one of Home Nursing Agency's founding leaders. "I remember him telling me, 'I honestly believe that this is the future of healthcare for people.'" 
As Chairman of the Board, Dr. Sheedy soon hired Sylvia Schraff to serve as President & CEO. He continued to provide oversight as the agency began to flourish with Sylvia's leadership of daily home health operations. Homemaker services were added, and the Agency expanded into Huntingdon County upon the request of local residents and leaders.
"Shortly thereafter people from Fulton County approached us and we set up an office there," Sylvia recalls. Home Nursing Agency then expanded into Bedford, Cambria, Centre, and Franklin counties. As the geographic area continued to grow – so did the types of services Home Nursing Agency offered.
 "I see that area of greatest growth was the vision that the leadership had to meet the needs of the evolving healthcare system," explains Margaret Adams, former patient and Home Nursing Agency Board Member. "As the healthcare system in the United States changed, we saw that service needs needed to be different. Home Nursing through its advisory committees – input from those multi-disciplinary groups that met – offered that type of input into the agency to meet the need."
The growing needs of the community included mental health services for patients being discharged from the Hollidaysburg State Mental Hospital, a hospice program to support patients with life-limiting illnesses and their families, maternal child services, and more.
Schraff shares, "I was pleased to be in a position where I could provide a full range of services to people in our communities. That meant that help was available for mothers and children as well as other people with their unique healthcare needs. Doctors and hospitals began to depend upon us in order to take their patients home and still provide quality care."
Over the years, Home Nursing Agency became an increasingly important link in the local continuum of care. Throughout the changes, the leaders and staff remained true to the founders' original mission of providing high quality care that allowed people to remain in their own homes and the community. 
"From the very beginning he saw Home Nursing being the future caregivers, that people could stay in their own homes – as I have done," Sheedy says fondly. "It makes recovery so much simpler and quicker. And the really fitting thing was that when John died he was here in his own home with Home Nursing caring for him." 
Home Nursing Agency became characterized for compassionate quality care and a culture of service excellence. These strengths throughout diverse service lines became an asset to UPMC in 2013 when HNA became part of the expansive healthcare system. 
"The commitment that they have to their community and to the patients they serve was the dominant feature then, and it continues to be so today," says Deborah Brodine, President of UPMC Community Provider Services. "Interestingly enough, HNA now as part of UPMC, is positioned as part of an integrated delivery system, and healthcare has changed in the United States, and I think the opportunity of being part of a larger whole becomes the opportunity for HNA to continue to do what it does best in terms of serving the community needs."
Adams recounts: "As I look back through all of these years, I am very thankful that Home Nursing was there, that the leadership had the vision to meet the community needs that are out there. It is with deep gratification that I am able to say what a celebration after 50 years! And as a community member to say thank you and have the comfort of knowing that Home Nursing will be there."
Thank you for welcoming Home Nursing Agency into your homes and community for the past 50 years!