4/27/2018 One in seven children in America will lose a parent or sibling by the age of 20. Behind this staggering statistic are real children – grieving children who often say that they feel alone because others just don't understand. At Home Nursing Agency's Healing Patch, grieving children learn they are not alone and that hope and healing are possible. Learn about the free services available and how to get involved as a volunteer at Open Houses in Cambria and Blair Counties.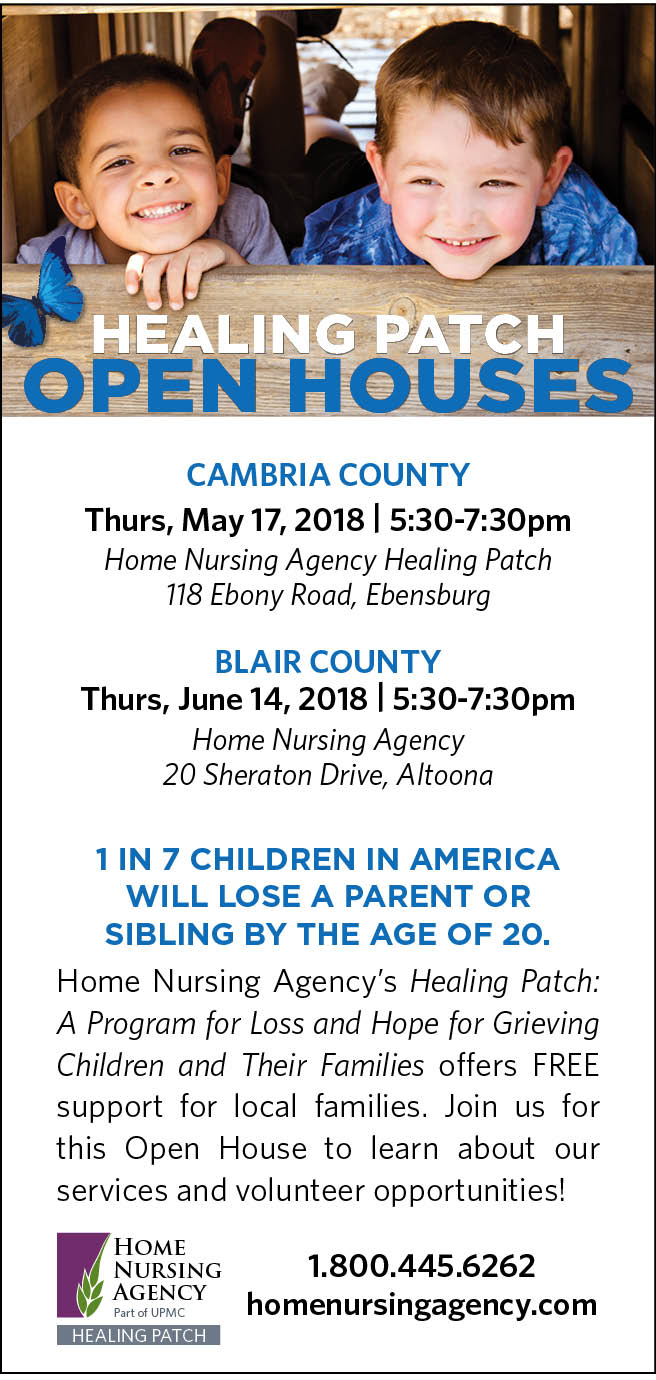 Cambria County
Thursday, May 17 | 5:30 - 7:30 p.m.
Cambria County Healing Patch
118 Ebony Road, Ebensburg
Blair County
Thursday, June 14 | 5:30 - 7:30 p.m.
Home Nursing Agency Corporate Office
20 Sheraton Drive, Altoona
Community members will have the opportunity to interact with program volunteers and learn how the program supports children who have suffered the death of a parent, sibling, grandparent or other loved one. The Healing Patch began in 2006 to provide a unique peer support environment for children to connect with others facing a similar loss and for families to embark on a journey of healing together.
After losing her older brother in an accident and seeing her young niece and nephew struggle with the loss of their dad, Lilly resident Monica Klatt made the decision to become a Healing Patch volunteer in 2011.
"My favorite part of volunteering is being able to actually see the difference this program makes in a child's life and the life of their family," Monica shares. "So many of these children come in feeling all alone and like they have no one that 'understands', but after going through the program, they make connections with others and realize they are not all alone in their grief."
Volunteers are the driving force of the family/peer support sessions that take place in the centers, as they serve in various roles: facilitating group activities, greeting families, serving food and completing sewing projects such as memory bears and quilt squares that give children a tangible connection to their loved ones.
In addition to the family sessions that are held in Blair and Cambria Counties, the Healing Patch offers in-school support for children who cannot attend a center, educational presentations in schools and the community and an expansive Lending Library of resources.
For more information about Healing Patch services or volunteer opportunities, contact Melody Ray, volunteer coordinator/grief specialist, at 814-947-7200
or This email address is being protected from spambots. You need JavaScript enabled to view it..