Agency News
2012 Mercedes Moment Supports Those with Community Health Needs - Thank You to Our Sponsors!
 05/17/2012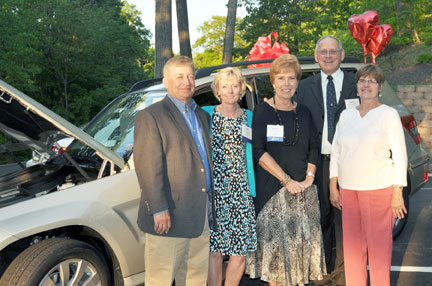 Joanne Straw of Altoona held the winning number - 081 - for the 7 p.m. drawing of the PA 3-digit lottery number, making her the winner of the Home Nursing Agency 2012 Mercedes Moment.
Pictured with car – From left, Home Nursing Agency President/CEO Robert Packer; Director of Development Pam Seasoltz; Home Nursing Agency Foundation CEO Becky Willnecker and Barry Halbritter, Home Nursing Agency Foundation Board Chair, congratulate Joanne Straw of Altoona, the winner of the 2012 Mercedes Moment. 
Now, in its tenth consecutive year, Mercedes Moment is Home Nursing Agency Foundation's annual signature fundraising event. Funds raised support the Agency's charitable mission of providing care and support to individuals and families in need, as well as provide funding to enhance programs benefitting entire communities within the Agency's 13 county service area.
Only 1,000 tickets were sold to win either a new Mercedes SUV or $30,000 cash prize. 
"Thank you to everyone who supported us this year including ticket buyers and corporate sponsors," said Becky Willnecker, CEO Home Nursing Agency Foundation. "This year's event raised more than $96,000 to help individuals and families in our care who have needs beyond normal circumstance and who may need additional services not covered by insurance. Mercedes Moment is truly a community fundraiser that embraces Home Nursing Agency's mission since its inception in 1968 as a not-for-profit, community benefit organization helping to lighten the burden and lend a helping hand to our patients and their families in times of greatest need. The Home Nursing Agency Foundation supports all programs and individuals who receive care within the agency's 13-county service area," added Willnecker.
In addition to ticket buyers, members  of the Foundation are also grateful for the support of the following community partners:
Highmark Blue Cross Blue Shield
The Home Nursing Agency Foundation is a community benefit, non-profit organization whose purpose is to provide financial support to create, improve, or enhance programs and services that ultimately results in a benefit to the individual, family and community served by the Agency. Since 2005, the Foundation  has awarded more than $1,000,000 to Agency programs and services—dollars staying close to home within the cities, towns and boroughs served by Agency caregivers.
The Foundation welcomes all private and public donations, which are tax-deductible to the fullest extent of the law. For more information about the Foundation and grants awarded, please contact Pam Seasoltz at 814.946.5411, ext. 2565.
The official registration and financial information of Home Nursing Agency may be obtained from the Pennsylvania Department of State by calling toll-free, within Pennsylvania, 1-800-732-0999. Registration does not imply endorsement. If you would like to be removed from our mailing list please contact the Home Nursing Agency at 1-800-992-2554.