Your Gifts at Work — Mission Grants 2017-2018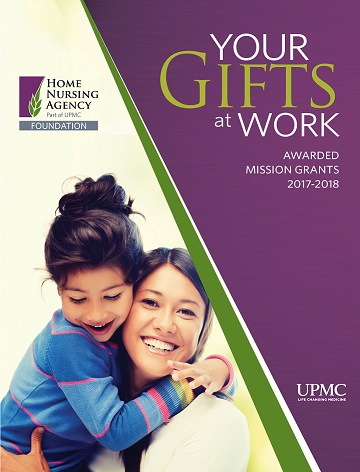 The Home Nursing Agency Foundation, a community benefit, non-profit organization, recently awarded 34 Mission Grants totaling $147,840 to Agency programs and services. The grants will directly impact patient care and services that are provided in the home and in the community for the fiscal year 2017-2018.
Click here to see "Your Gifts at Work" - the 2017-2018 report of how charitable contributions are being used to directly impact individuals, families, and communities.
The Foundation's mission is to provide financial support to create, improve, or enhance the Agency's programs and services that ultimately results in a benefit to the individual, the family and the community. The Foundation uses donations from individuals, community contributions, and proceeds from fundraising events, like Mercedes Moment, to annually award Mission Grants. Since 2005, the Foundation has awarded 322 grants totaling $1,647,853.
All donations are tax-deductible to the fullest extent of the law and all dollars remain in the community—close to home within the cities, towns and boroughs served by the Agency. Your support is greatly appreciated!
For more information about how you can make an impact or to register for a tour of Agency community facilities that benefit from Foundation Mission Grants, please visit www.homenursingagency.com or contact Kim Helsel, Director of Development/Marketing Communications, 814.947.7024
or This email address is being protected from spambots. You need JavaScript enabled to view it..
The following Agency programs and services were awarded Mission Grants for the 2017-2018 fiscal year:
Hospice Emergency Fund – To help individuals who are facing a life-limiting illness with emergency one-time funding for utility or fuel costs, medications, air conditioners and other emergencies to ease the emotional and physical challenges occurring at the end of life.
Hospice Volunteers – To provide funds to support the comfort and care of hospice patients who need bed sheets, neck pillows, hospital gowns, baby monitors, reading materials and comfort bags comprised of lotions, portable CD players, portable projectors to provide images to bed bound patients. Additional purchase would be holiday gift item, such as fleece blankets.
Hospice Volunteers – To recognize hospice volunteers through appreciation luncheons and other efforts to demonstrate appreciation for volunteers' service to hospice patients and families.
Hospice Educational Resources – To purchase educational booklets to be used by the family as a resource for the signs and symptoms of what to expect during the various stages of dying. Two booklets to be specifically purchased include:  A Different Season (The Hospice Journey) and Hard Choices for Loving People.
Hospice General Inpatient Unit – To provide smocks for hospice volunteers serving the General Inpatient Unit at UPMC Altoona to identify them as hospice volunteers. Also to purchase comfort bags and contents.
Hospice Bereavement – To purchase stationery items (cards, grief support literature) for the extended support mailings to bereaved families. Also to purchase books "Healing After Loss" and journals to be used for those bereaved.
Hospice Quality of Life – To enhance the quality of life for our patients by providing funds for a meal at restaurant to celebrate an anniversary for a dying patient/spouse, for a television for a patient with no other means of entertainment, or for CDs for an anxious patient calmed by music.
Healing Patch - Children's Grief Program –To supplement overhead costs, including staff time/facility costs, craft/activity supplies and food. In addition, to cover expenses for staff to facilitate six-week in-school groups with children who would not otherwise have access to a center or grief resources.
Home Health Emergency Fund – To provide funds for HNA Home Health patients and their families who have need beyond normal circumstances and need assistance to purchase life's basic necessities, i.e. nutritional supplements, bathing/safety aides, bedding and emergency medications.
Home Health Calendar – To provide funds for the production of an annual calendar for new patients to track HNA Home Health team member visits and physician appointments, along with their own health information to promote self-management of care.
Pediatric Home Connection – To pay for additional shifts of nursing care, respite, and social services support for children who are technology-dependent and suffer from chronic, life-limiting disabilities.
Pediatric Home Connection – To purchase therapeutic items needed by children with chronic, life-limiting disabilities that will help to ensure/maintain the child's comfort and provide education and stimulation.
AIDS Intervention Project – To assist individuals and families dealing with HIV/AIDS with transportation, personal care/hygiene items, cleaning supplies, vitamins, and dietary supplements.
Center for Counseling – To assist in providing treatment to more than 300 children and 1,000 adults experiencing behavioral health issues who otherwise would not receive services due to having no insurance, high co-pays/deductibles or private insurances that will not pay for counseling services.
Adult Group Blair (Art Therapy) / Adult Partial Hospitalization – To support the art therapy program with supplies, i.e. paints, clay, paper products and easels and for planning and implementation of art therapy sessions.
ACEL – Adult Center for Exceptional Learning – To support the continuation of the Southern Alleghenies Museum of Art (SAMA) Artists-In-Residence program that provides ACEL individuals the opportunity to experience art, painting, dancing and storytelling, which can improve their quality of life.
Adult Day Services – To provide additional days of support to help families caring for a loved one who cannot remain safely at home alone. These families do not have access to insurance but need daytime services for their loved one, allowing them to work and have respite care.
Adult Day Services - To support the Southern Alleghenies Museum of Art (SAMA) Artists-In-Residence program that provides Adult Day Services individuals with art experiences, i.e. painting, dancing and storytelling to improve their quality of life.
Behavioral Health-Children's – To cover costs of eradicating bedbugs and cockroaches in very limited, extremely critical situations.
Blended Case Management/Children and Adolescents – To purchase personal/hygiene products, cleaning products, food, seasonal clothing items and other daily living needs for children and adolescents in the Children's Behavioral Health Program and to be used for start-up costs for community and school-based activities, i.e. intramural sports, Boy Scouts, Girl Scouts, etc.
Blended Case Management/Resource Coordination – (Behavioral Health Care for adults diagnosed with a mental illness) - To be used for unexpected emergencies or when an individual has minimal income. Helps to fund household and personal hygiene products, clothes for employment/school and bus passes for those starting employment.
Therapeutic Staff Support (TSS) (Provides therapeutic support to children with Bipolar Disorders and Attention Deficit Hyperactivity Disorders) - To assist with community activity fees for children receiving behavioral health services and to purchase therapeutic games that would encourage active participation by the individual and family to support and attain goals necessary to prevent more intensive services.
Children and Adolescents Partial Hospitalization (Blair & Centre counties) – To stock the "Rewards Store" (acute/individual outpatient program) and "group store" (Hearts and Strides – Centre County), a therapeutic incentive-based program that changes negative behaviors into positive ones with the use of a rewards system. Items to include basic school items and activity items to encourage family cohesiveness and participation. 
Children and Adolescents Partial Hospitalization (Blair County) – To fund the rental of a van for June-August to transport local school-aged youth to and from treatment at the center. The van will make multiple trips daily and is estimated to transport a total of 150 youth each week.
Children and Adolescents Partial Hospitalization (Blair County) – To provide a balanced and nutritious breakfast, lunch, and afternoon snack for the youth in the program. Providing proper nutrition is not a regulation, and therefore not reimbursed by any payer. Meals through the program are often the only food the youth have, so food will also be provided to take home for the weekend.
Opportunity Club – The Club provides a stress-free, stigma-free atmosphere for people 18 years and older who are diagnosed with a mental illness or co-occurring disorder. Funds support hot meal once a month and four special events/holidays that approximately 150 individuals attend. Funds would be used to purchase decorations/prizes, food, DJ services and room rental. 
Drug & Alcohol – Help about 50 individuals who cannot afford co-pays related to private insurance and monthly liability costs.
Lexington Clubhouse (Pychiatric rehabilitation program) – To support the growth of the "wellness movement" with Clubhouse members. Clubhouse has 35 active members with 50% attending weekly wellness meetings, focusing on nutrition and health. Funds are needed to purchase 6 additional gym memberships to KNT Fitness Program that would be shared among participants, as well at monies needed to purchase healthier food items for the Sheetz Shank Shack that is open to all Clubhouse members. 
Children's Emergency Medical – Used for travel expenses, gas cards, required medical equipment, and lodging/food for families while the youth receives out of town treatment. 
Early Intervention - To provide feeding equipment, communication boards, and developmental/therapeutic materials, along with the creation of a free play group for Early Intervention toddlers and parents.
Critical Need Funding – To cover any critical need for which no formal Grant request had been made or insufficient dollars had been approved. This allocation will be at the discretion of the Grants Committee.